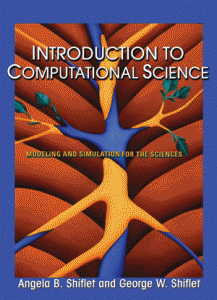 General Instructions:  The links on this page are intended to accompany the textbook Introduction to Computational Science by Angela B. Shiflet and George W. Shiflet  (© 2006 by Princeton University Press ISBN: 0-691-12565-1). Each of the model pages contains a Nova applet running the model of interest. Each page also contains a link for downloading the model to run on the user's own Nova desktop system. The page also contains a brief description of the model. In order for the applet to run your browser must have an enabled Java applet plug-in running Java 1.6 or later. See browser documentation for further instructions. The first time one of these applets runs may require significant download time. Subsequent runs of any applet in this group should load more quickly since they all will share the same Nova runtime. To run these models directly click Capture – Load – Exec. Automode, Timeline and I-Mode operation are also available — see Nova documentation for more details. The Nova model canvas and dashboard panes may be adjusted for convenient viewing.
Note:  Applets no longer run in the Chrome browser.
All files below open in new tab.
Chapter 3 System Dynamics Problems with Rate Proportional to Amount
Module 3.1      System Dynamics Tool: Tutorial 1
Tutorial 1
Module 3.4      System Dynamics Tool : Tutorial 2
Tutorial 2
Module 3.5      Drug Dosage
OneCompartAspirin
OneCompartDilantin
Chapter 4 Force and Motion
Module 4.1      Modeling Falling and Skydiving
Fall
FallFriction
FallSkydive
Module 4.2      Modeling Bungee Jumping
VerticalSpring
Bungee
Module 4.3      Tick Tock""The Pendulum Clock
simplePendulum
Module 4.4      Up, Up, and Away""Rocket Motion
Rocket
Chapter 5 Simulation Techniques
Module 5.2      Euler's Method
unconstrained
unconstrainedError
Chapter 6 System Dynamics Models with Interactions
Module 6.1      Competition
sharkCompetition
Module 6.2      Spread of SARS
SIR
SARSRelationships
Module 6.3      Enzyme Kinetics
substrate
Module 6.4      Predator-Prey Models
Predator-Prey
Module 6.5      Modeling Malaria
malaria